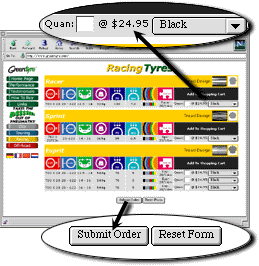 This website offers immediate,
secure internet ordering
through
Plug & Pay Technologies
. With this process,
no one will have access to your information submitted except your bank and Greentyre.
Simply select the tires you wish to order, being sure to
indicate the quantities and color
in the field provided on each product page. Click the
"submit order"
button at the bottom of each page, and your selections will be added to your shopping cart, along with the applicable tax and shipping charges.
You will then be prompted for your credit card information and shipping information to complete the transaction online. A
receipt will be immediately delivered
to the e-mail address you provide.
Alternatively
, you can
print
your final "check-out" screen and
fax
it to (804) 344-8179,
or call
(888) 476-8973.
THIS IS A DEMO STORE.
If you are looking for the REAL GREENTYRE STORE please follow this link.